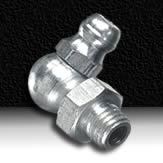 Products
For more information call:
1-800-588-8480

1/8"-27 Pipe Thread

Grease

Fittings

Pipe Thread Grease Fittings are manufactured in 4 different diamaters. All threads are tapered with a conicity of 1:16"
(equivalent to 47°). The included angle of thread is 60 degrees. 1/8"-PTF Grease Fittings are referred to as 1/8"-PTF Zerk Fittings, 1/8"-PTF Lubrication Fittings, 1/8"-PTF Hydraulic Fittings, or 1/8"-PTF Grease Zerks.


1/8"-PTF GREASE FITTINGS * 1/8"-PTF GREASE FITTINGS * 1/8"-PTF GREASE FITTINGS * 1/8"-PTF GREASE FITTINGS * PTF FITTINGS
SAE Number
Description

FIG

A

B

X

Alemite #

Lincoln #

H-200-C
1/8"-PTF STRAIGHT SHORT

1

9/16"

15/64"

7/16"

1644-B

N/A

H-200
1/8"-PTF STRAIGHT

1

21/32"

1/4"

7/16"

1610-BL

5000

H-200-B

1/8"- NPT STRAIGHT (BRASS)

1

15.0mm

5.5mm

7mm

NA

NA

H-200-CT
1/8"-PTF STRAIGHT WITH CAP

1

25/32"

9/32"

9/16"

N/A

N/A

H-200-SB
1/8"-PTF STRAIGHT, NO BALL

1

21/32"

1/4"

7/16"

N/A

N/A

H-200-LM
1/8"-PTF MEDIUM LONG

4

1-1/4"

25/32"

7/16"

1607-B

5003

H-200-LA
1/8"-PTF LONG

4

1-3/4"

1-15/64"

7/16"

1669-B

5007

H-200-LLA
1/8"-PTF VERY LONG

4

2-5/8"

2-1/32"

7/16"

1684-B

5009

H-200-RL
1/8"-PTF LONG THREAD

4

3/4"

11/32"

7/16"

N/A

N/A

H-200-RI
1/8"-NPTF INTERNAL THREAD

N/A

1"

5/16"

1/2"

1618-B

5505

H-200-DR
1/8"-PTF STR. DUSTPROOF

N/A

1"

5/16"

7/16"

1958

N/A

H-230
1/8"-PTF 30 DEGREE

2

15/16"

19/64"

7/16"

1611-B

6004

H-230-LMA
1/8"-PTF 30° MED.LONG

2

2"

1-1/4"

7/16"

1638-B

5200

H-245
1/8"-PTF 45 DEGREE

2

27/32"

19/64"

7/16"

1688-B

5200

H-245-RI
1/8"-NPTF 45° FEMALE THRD

N/A

1-1/8"

13/32"

7/16"

1620-B

N/A

H-265-A
1/8"-PTF 65 DEGREE

2

27/32"

19/64"

7/16"

1612-B

5300

H-265-LM
1/8"-PTF 65° MED. LONG

2

1-7/32"

9/16"

7/16"

1623-B

N/A

H-265-LLA
1/8"-PTF 65° VERY LONG

2

2-3/4"

2-1/4"

3/8"

1649

N/A

H-290
1/8"-PTF 90 DEGREE

3

53/64"

19/64"

7/16"

1613-B

5400

H-290-LMA
1/8"-PTF 90 MEDIUM LONG

3

1-13/16"

1-1/4"

7/16"

1606-B

N/A