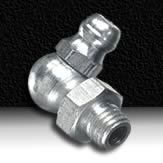 Products
For more information call:
1-800-588-8480

1/4" PTF Stainless Steel Grease Fitting / Zerk Fitting
SAE Products 1/4" PTF stainless steel grease fittings are commonly referred to as 1/4" PTF stainless steel zerk fittings. Our stainless steel grease fittings withstand severe and corrosive environments and offer greater corrosion resistance than traditional carbon steel grease fittings. Below is a image an drawing of SAE Products stainless steel 1/4" PTF grease fitting. For more information on our stainless steel grease fittings call us toll free at 1-800-588-8480.
1/4" PTF Straight Stainless Steel Grease Fitting Description

Part #

Type

Thread

Overall Length

Shank Length

Hex Size

H-300-SS-AM

Straight

1/4" PTF

.82"

.35"

9/16"
| | |
| --- | --- |
| Stainless Steel Grease Fitting | Stainless Steel Grease Fitting |
| | |