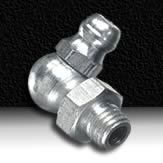 Products
For more information call:
1-800-588-8480

1/8" PTF Vent Grease Fitting / 1/8" PTF Vent Zerk Fitting
Below is an image and drawing of SAE Products 1/8" PTF vent grease fitting. Vents open at pressure indicated below and feature a special steel cap which prevents dirt and water from entering the grease fitting. For more information on our 1/8"- PTF vent grease fittings call us toll free at 1-800-588-8480.
Vent Grease Fitting Description

Part #

Type

Thread

Opening Pressure

Overall Length

Shank Length

H-200-Vent

Straight

1/8" PTF SAE Spl Short

N/A

.78

.28
| H-200-Vent Grease Fitting | |
| --- | --- |
| | |