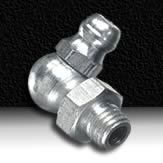 Products
For more information call:
1-800-588-8480

1/8" PTF Leakproof Grease Fitting / Zerk Fitting
Below is an image and drawing of SAE Products leakproof 1/8" PTF grease fitting. Grease and heavy and medium oils can be used with part H-200-1634B. PSI for this leakproof grease fitting shouldn't exceed 5,000 psi. For more information on our leakproof grease fittings call us toll free at 1-800-588-8480.

Features: Steel ball check, brass insert seats, and debris-excluding surface ball check
Leakproof Grease Fitting Description

Part #

Type

Thread

Overall Length

Shank Length

Hex Size

H-200-1634B

Straight

1/8" PTF

1"

33/64"

7/16"
| | |
| --- | --- |
| Leakproof Grease Fitting | Leakproof Grease Fitting |
| | |